A taste of Christmas at the Backpackers
Christmas away from family and friends might seem an unsettling prospect, but this year I discovered how Christmas Day on the other side of the world could be one of my most magical yet. Here's a small taste…
08:30 I awoke to the sound of rain hammering on the roof of my van. Obviously worrying about homesickness had been unnecessary with the grey clouds and drizzle giving the place a very English feel. I had a stocking from my travel buddy, a little present-filled sock from my mum, AND the lovely hostel owner gave every wwoofer a pillow case full of Raglan goodies (pillow cases for stockings is something I can get behind, you can stuff a lot of treats into a pillow case). If anyone thinks 30 too old for stockings, they are clearly mistaken.
9:00 Mine is one of those families with five thousand different Christmas traditions – my mother even keeps a diary of the fine-grained timings of each activity so it can be perfectly honed. So my fellow hostellers were obviously thrilled to be informed a few days in advance they would need to secure Christmas Cards to be swapped at breakfast over a glass of Bucks Fizz. It turns out Bucks Fizz is a phrase completely incomprehensible to all non-Brits, but everyone was pretty happy to partake in what are actually just extra-boozy mimosas.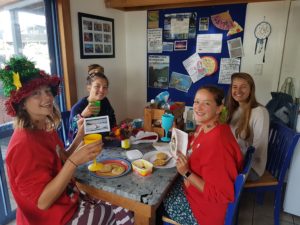 9:30 Getting forty guests (a few people with particularly ambitious cooking plans stayed behind) and ten staff members kitted up with wetsuit, board and transport to the beach had seemed an intimidating prospect, but with some expert spreadsheeting and the fact that a large proportion of the guests were highly efficient German girls, it all went beautifully smoothly. And even better, the sun decided to make an appearance just as we were strapping the boards to car roofs.
10:00 Of course the first priority upon arrival at the beach was photographs of everyone in wetsuits and santa hats. Surprisingly, the number of hats lost to the ocean was minimal and my friend and I earned ourselves Photo of the Day when someone captured the two seconds we managed to both stand up on the giant 12ft tandem surfboard.
13:00 Trying to fit in all our favourite Raglan activities in one day, we did a quick jump off the nearby footbridge into the estuary to get ourselves suitably chilly for a dunk in the hot tub. With everyone returning from the beach at the same time, I think we broke the record for the most people you can fit in a hot tub (most of the water ended up sloshing over the sides). However, with only an hour to go until the Estimated Time of Eating, we quickly dispersed to the kitchens.
15:30 I'll never quite understand how so much incredible food was produced so quickly (and in only three ovens) but only an hour and a half later than planned, the official dinner gong (actually just someone standing on a chair and shouting) sounded. With all the different countries and cultures represented, it was like no Christmas Dinner I've ever experienced. From my own proper English contribution of roast chicken and bread sauce (couldn't find turkey anywhere) to Swedish meatballs, yams with marshmallows (sorry Canada, but that's just weird) to a cauldron full of gluhwein and a surprising piece de resistance, the grape salad, it was a taste extravaganza.
17:00 After the standard post-lunch lull (and some hardcore team washing up) everyone reconvened in the lounge for secret santa. There was a slight delay when our santa discovered that the sexy santa bikini we'd found in the decorations box was absolutely not appropriate for public consumption (I'll never be able to unsee that sight!) and had to go back to a more classic santa look. Our Elf put his primary school teacher experience to excellent use coordinating the gift distribution, keeping everyone rolling about with his elfy antics. As the official bosses of Christmas, we enforced every person sitting on Santa's knee to open their present. Poor Santa had to be kept well-lubricated with beer to maintain his enthusiasm for the 50th person…"Why do ALL the guys have go for the arm around the neck?"

When the last person had finally unwrapped their cuddly koala (the giver was possibly confused/lost) we all headed out to the boat ramp for a giant squad photo.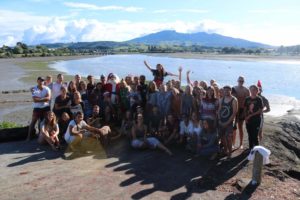 19:00 Exhausted from the jam-packed schedule of organised fun, most people collapsed into hammocks or hot tub. For those in need of a lazy evening activity, my sister had sent over this year's version of the annual family quiz. Although apparently it wasn't particularly kind to an international audience (how can you not know who Robbie Williams is?) it was won by German Martin with his phenomenal ability to identify countries from their shape (seriously, even Jordan!).
21:30 Raglan obviously offered up one of its standard spectacular sunsets to end the day. Then, just in case anyone felt like they hadn't had sufficient magic in their day already, a couple of girls started strumming guitars and it quickly evolved into a big beautiful multilingual team singalong. It genuinely was the perfect ending to a perfect Raglan Christmas Day.