5 New Zealand Beaches Perfect for Beginner Surfers
With no end of empty, stunning beaches, New Zealand is full of epic surf spots. Google surf New Zealand and you'll find endless suggestions of fantastic waves. But a word of warning – places you can easily find board and wetsuit hire, plus nice friendly waves for beginners (or those of us early into our surf careers) are a bit more rare. So here are five sweet spots that meet that spec!
1. Raglan (North Island)
Obviously our favourite spot in New Zealand is our very own Raglan. Renowned for the point breaks at Manu Bay, Whale Bay and Indicators, expert surfers flock to Raglan. But for those of us who just like to play in the white wash or are in the early stages of venturing out to the green water, Ngarunui Beach is perfect. It's so wide that there's no risk of being run over by or running over your fellow surfers, the locals are friendly and the views over the mountain are stunning. The black sand is awesome, but make sure you bring flipflops (or jandals, or thongs, depending on where you're from) because it can get pretty hot.
We hire from: Raglan Backpackers of course! It's the cheapest in town and includes use of our hostel surf car. Book now via this website or call us on 07 825 0515.
2. The Catlins (South Island)
Many New Zealand tourists miss the Catlins because this beautiful coastal area on the southern tip of the South Island is that bit further away from the usual popular spots. Our advice: skip it and you're missing out big time! The beach at Curio Bay is long, quiet and has consistent swell at high tide, but the real highlight is between November and March when you're more than likely to be surfing alongside the tiny Hector's Dolphins. There's honestly nothing more magical than seeing that little nose pop up just metres from your board and watching them jump through the waves in front of you! When we were there for a week in March we saw dolphins in the surf every day.
We hired from: Nick at Catlins Surf and Accomodation – and he runs a great daily lesson too.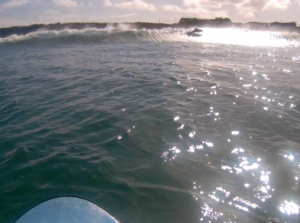 3. Westport (South Island)
A visit to Westport is worth it just for the breathtaking views as you drive along the coastline, probably the most picturesque piece of highway in New Zealand. For beginners and pros alike, Tauranga Bay has reliable swell and tends to be fun in most conditions. When you finally tire of the waves, a few minutes walk will take you to a lookout over the Cape Foulwind seal colony, bonus!
We hired from: Bazil's Hostel and Surf School (this is also a fun place to stay for a few nights).
4. New Plymouth (North Island)
A list of New Zealand surf spots wouldn't be complete without mentioning the famous Surf Highway 45 in Taranaki, and if you like a bit of apres-surf after a session in the water, New Plymouth might be for you. The main beach break at Fitzroy Beach is just a short stroll from the city centre and boasts the only place in New Zealand where you can catch glimpses of a magnificent snowy mountain peak from the water. Whatsmore, if it's a bit too crowded at Fitzroy, just over half an hour along the coast is another awesome beginner-friendly bay in the little chilled surf town Opunake.
We hired from: Dreamtime surf in Opunake, where they can even provide a mean coffee to warm you up after your surf.
5. Ahipara (North Island)
Despite the slightly offputting name, Shipwreck Bay in the little town of Ahipara is lovely spot. It's located at the southern end of the famous Ninety Mile Beach, against a backdrop of some magnificent giant sand dunes. It's a wide sandy beach, where you can get some good long rides, even if you're only catching the broken waves. AND we even spotted a sting ray chilling out in the shallows.
We hired from: Ahipara Adventure, who also rent all sorts of other fun equipment for thrill-seekers, from quadbikes to sand toboggans.