Lockdown at Raglan Backpackers
Wow! When everyone said that 2019 was the worst year yet, I think that may have jinxed the world! Who on New Year's Eve, would have thought that by March we would be in total lockdown throughout the world!? We are living in such crazy and uncertain times, but we will all make it through this! At the moment we have locked down the hostel; we have been so blessed to have been inundated with wonderful people who felt like Raglan Backpackers was their home away from home and felt safe to be with us for the lock down.
45 people all in one hostel not being allowed out (other than for their daily exercise allowance) was definitely a big worry! But, it's amazing how many hidden talents people keep to themselves!! And after letting us into their treasure box of talents, we now have our own little Raglan Backpackers Activity Center; Yoga classes, fitness classes, Pizza making nights, Language classes, chess tournaments…. the list goes on!
I guess every cloud has a silver lining because thanks to everyone in our lockdown family, we have been given some wonderful ideas and the time to implement some exciting new activities and offers. We can't wait for this all to be over and to welcome everyone back to Raglan and the backpackers for some wonderful winter adventures.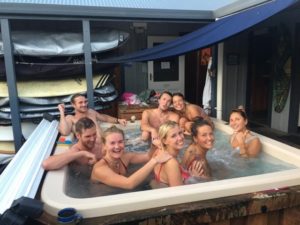 Kia Kaha – Be safe and stay strong!